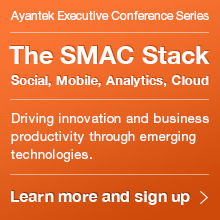 Thank you to everyone who made
"The SMAC Stack" conference a success!
If you weren't able to join us at the SMAC Stack, register and you'll be notified when our post-event SMAC content becomes available.
Some highlights from the SMAC Stack:
Bala Iyer gave a terrific overview of emerging technologies and how entrepreneurs can best position themselves to take advantage of tech trends.
Glenn Gaudet's energetic Social Media presentation got the room popping with ideas on how to engage stakeholders in the mission of sharing your company's messages.
Jeff Takle gave a real-world example of how mobile technology circumvented the need for complex infrastructure and expensive machinery to improve medical outcomes in sub-Saharan Africa.
IDC's Dan Vesset shared that winning the analytics game was far more than "just buying Hadoop" but that it required leadership in 5 areas. We also learned that according to the Harvard Business Review, being a data scientist is the sexiest job of the 21st century.
Via
The Ayantek Team